This week, I turn 29. I feel like 29 is a weird age, ya know, just like 19 was, and 9 (and who isn't weird when they're 9?!?), and as I assume 39, 49, and so on will be too.
When people I know turn 19, I like to write on their cards the words to the iconic Britney Spears song 'I'm not a girl! Not yet a woman!" because anything ending with a 9 just kind of feels like this weird limbo while we wait for the next birthday.
I don't think my kids know what 29 really is. Lemonade keeps asking me if I'm really turning 29 this year as if she knows that I'm getting to the age where I might start fibbing about my age. I won't, child, I'll own it. I'll own every minute of it.
Even if I don't know how to do that well.
I tend to be a looker-backer when it comes to birthdays and anniversaries. For me it's so reflective, and it's fun to look back.
But as I stand on the doormat of 30 I thought I would try something new, something different. Because when I was in my teens I thought for sure that life would look a certain way at 30 that is almost so laughable to how my beautiful, messy, and incredible life actually looks.
So this year, I want to look forward to my next year and have like, a bucket list for this year. It's kind of like a birthday gift to me – planning and plotting the next year. 🙂
30 Things I Want to Do Before I Turn 30
get to 2000 in my thankfulness journal
take my kids to ride the camel at the zoo (this was the bribe to get Dozer to work on potty training)
attend a blogging conference
write an honest to goodness letter to someone (probably my great aunt JoJo)
go on an overnight trip with just my husband
take my kids to the beach (I'm not really a beach person but hey…)
eat a brand new food (any good ideas to try?)
visit a new state (see my map below)
have a 30 days of cleaning month (I don't like cleaning so this is big for me)
finish reading through the Bible again
find a podcast to listen to
record a podcast
write 3 chapters of a book
get a heart ring piercing

from: https://www.pinterest.com/pin/271201208784970019/

start a minimalist wardrobe (I mean that should be easy since I haven't been the same size in the last 5 years, right?)
exercise, walk, or stretch 2x a week
tell my kids something I am thankful for about them each day
tell my husband something I am thankful for about him each day
dive in to a study on the women of the Bible (thinking I'll do 'For Such a Time as This' because you know, kids' Bible)
work on and finish the kids baby books (I'm getting behind already…)
memorize 30 Bible verses
hold myself to one cup of coffee before switching to tea
hang one load of laundry on the line each week (the drier is just way too easy)
not get on my phone till after breakfast time with my kids
do a family road trip to visit the grandparents
sleep outside in the tent with the kidlets (I don't think I'll have the pregnancy card to play again this summer)
sew something with my new sewing machine
make a good loaf of sourdough bread
drink kombucha every week
give my husband a 10 second kiss every day (because mmmm)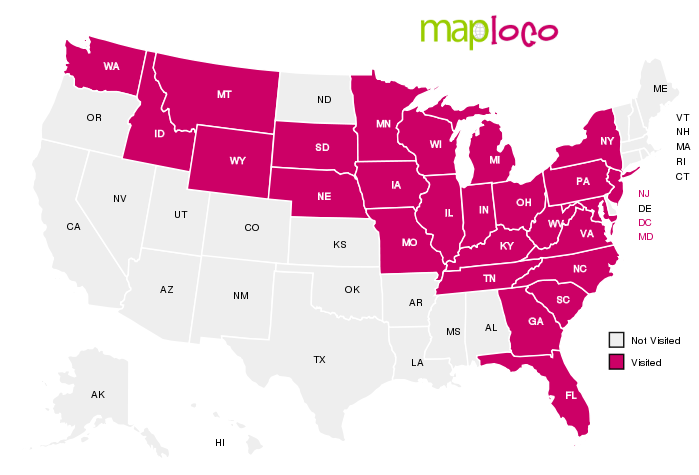 Create Your Own Visited States Map
What kind of things would you include on your birthday bucket list? I'd love to see some of your ideas!